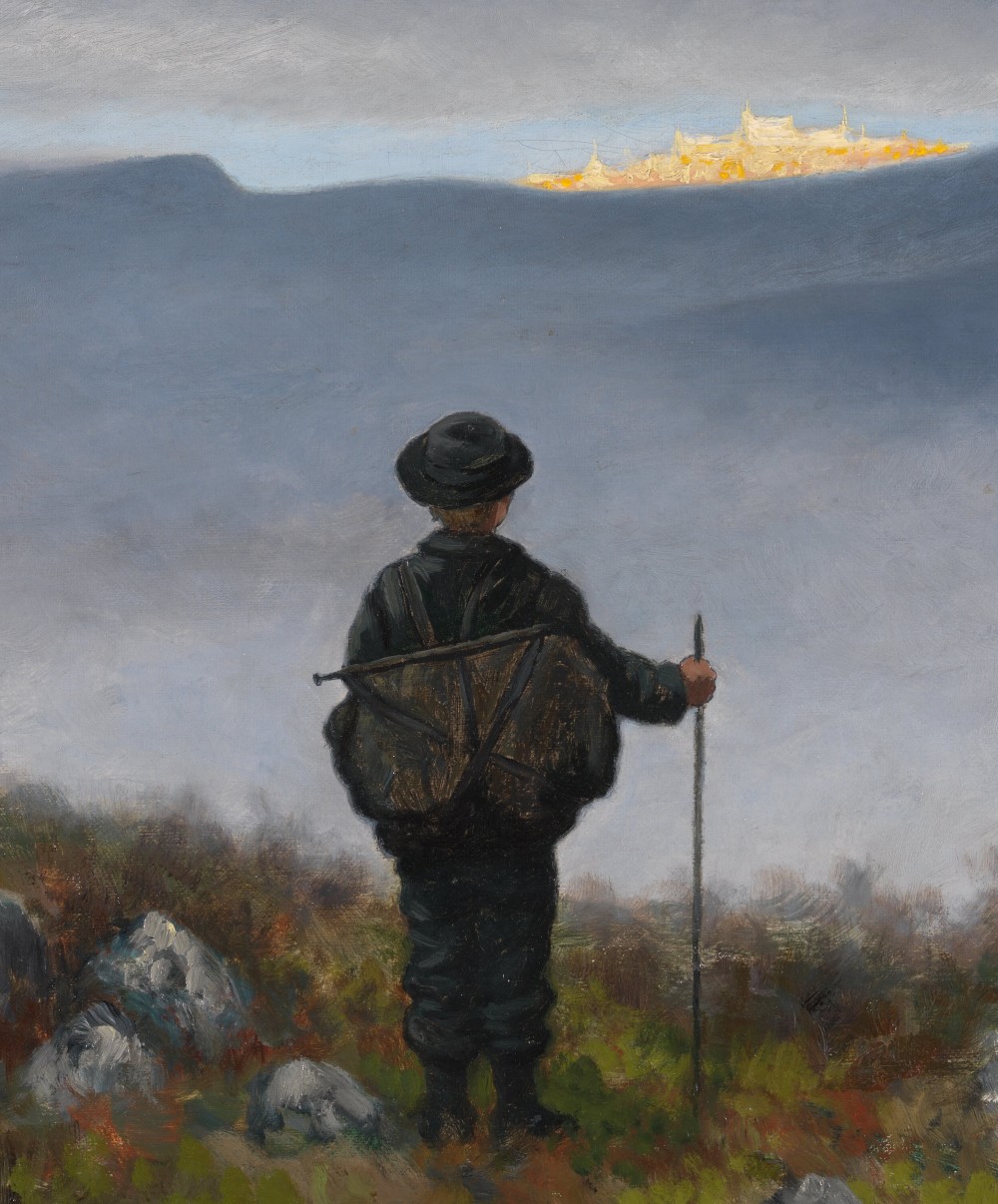 I have just returned from an inspiring 3 days at the Soria Moria conference centre in the hills above Oslo. Over more than ten years now I have had the privilege of joining a supportive and pioneering group of practitioners, academics, bereaved parents and support groups from Scandinavia, Europe and further afield for this conference on sudden infant death syndrome (SIDS). I always come away with new ideas and fresh enthusiasm, having heard from others about some of the latest research, discussed challenging cases, and considered how we can best work to support families and prevent the horror of unexpected child deaths. There is a spirit of collaboration, humility and learning that pervades the conference and I have no doubt this has led to some major advances in our understanding and direct benefits to children and families around the world.
The conference centre at Soria Moria takes its name and logo from Theodor Kittelsen's dramatic painting of the poor boy, Halvor, knapsack on his back, gazing off into the distance, far, far away where Soria Moria Palace shimmered like gold: a vision of a brighter, better future.
The EU referendum
So what has all that got to do with the forthcoming referendum? Perhaps because the spirit of collaboration, humility and learning I have experienced at Soria Moria captures so much of how I think we should be living together in our increasingly globalised society, and that the vision of a brighter, better future captured in the fairy tale of Soria Moria embraces some of the key values that I believe should underlie our considerations of whether to leave or remain in the EU: values of peace, justice and wellbeing.
"The Union's aim is to promote peace, its values and the well-being of its peoples." – Treaty on the European Union
Peace
Since the end of the Second World War in 1945, we have experienced an unprecedented 70 years of peace in Europe. While that peace clearly cannot be attributed solely to the presence of the European Union, it seems to me that the formal agreements forged between the constituent countries have at least contributed to that peace, and certainly have done nothing to undermine it. We are blessed by an incredible level of security and safety in our countries, and I am grateful to all those who contribute to this. And there are very real threats to that security, not least the ongoing threats of terrorist groups who operate across all borders, as well as potential threats from nearby countries. It seems to me that a united Europe is a much stronger counter to those threats, with all the advantages of shared security, information transfer, and collaborative rather than competitive security forces.
"The Union shall offer its citizens an area of freedom, security and justice without internal frontiers, in which the free movement of persons is ensured in conjunction with appropriate measures with respect to external border controls, asylum, immigration and the prevention and combating of crime." – Treaty on the European Union
Justice
The very basis of the EU, as stated up-front in the Treaty on the European Union, is respect for human dignity, freedom, democracy, the rule of law and respect for human rights. These are values to which all of us should aspire. It worries me when our government talks of opting out of the European Convention on Human Rights, as though we are somehow above respecting such rights. It seems to me that our membership of the EU has helped promote rights for children, women, workers, minority groups, and those who are most vulnerable. We need to continue to fight for justice and equality and should welcome and work with all those who share such values.
Justice extends too to our planet, and care for the environment. Here, too, it seems that the EU has been a significant driving force in promoting environmental sustainability, green energy, and care for creation. Once again it seems that we are in a stronger position to promote that in a united way.
"The Union is founded on the values of respect for human dignity, freedom, democracy, equality, the rule of law and respect for human rights, including the rights of persons belonging to minorities. These values are common to the Member States in a society in which pluralism, non-discrimination, tolerance, justice, solidarity and equality between women and men prevail." – Treaty on the European Union
Wellbeing
Much of the debate between the two sides in the referendum seems to have focused on the economy, with both sides promoting scare-mongering predictions, based on rather tenuous speculation. I think this is a great shame, as economic wellbeing is just one part of wellbeing, and so much is uncertain either way. It seems to me that the only certainty is that if we leave the EU there will be a period of economic and political instability during which fresh treaties and agreements will need to be made with each of the other member states. The only people likely to benefit from this seem to be the already wealthy bankers, stockbrokers and lawyers.
Nevertheless, economic stability is a component of the EU treaty promoting a social market economy, employment, social progress, and free trade. Again, these seem to be worthwhile goals.
But there is so much more to wellbeing: healthcare, education, research, diversity, culture. All of these are promoted within the EU treaty, and it is hard for me to see why we should argue against them.
"The Union shall establish an internal market. It shall work for the sustainable development of Europe based on balanced economic growth and price stability, a highly competitive social market economy, aiming at full employment and social progress, and a high level of protection and improvement of the quality of the environment. It shall promote scientific and technological advance.

It shall combat social exclusion and discrimination, and shall promote social justice and protection, equality between women and men, solidarity between generations and protection of the rights of the child.

It shall promote economic, social and territorial cohesion, and solidarity among Member States.

It shall respect its rich cultural and linguistic diversity, and shall ensure that Europe's cultural heritage is safeguarded and enhanced." – Treaty on the European Union
So, motivated by what I consider to be basic values of justice, peace and seeking the common good, for ourselves and for our neighbours, I will be voting to remain on the 23rd June.
"In its relations with the wider world, the Union shall uphold and promote its values and interests and contribute to the protection of its citizens. It shall contribute to peace, security, the sustainable development of the Earth, solidarity and mutual respect among peoples, free and fair trade, eradication of poverty and the protection of human rights, in particular the rights of the child, as well as to the strict observance and the development of international law, including respect for the principles of the United Nations Charter." – Treaty on the European Union