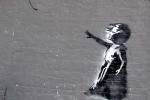 Between 2011 and 2014, 293 Serious Case Reviews were carried out in England into cases where children had died or been seriously harmed through abuse and neglect. Professor Marian Brandon and I, together with our research teams from the Universities of East Anglia and Warwick have spent the past year analysing these reviews to see what we can learn about improving our systems for protecting children and promoting their safety and wellbeing.
The research report is due to be published by the Department for Education on Tuesday 5th July and we will be following this by a webinar on Thursday 7th July from 12-1 in which Marian and I will be discussing some of the key learning coming from this research.
Anyone is welcome to register for the webinar, which is being hosted by Research in Practice, who will also be a repository for the full research report and a series of practice briefings for different groups of professionals.
To register for the webinar, click here.
I will be posting our press release on my blog on the 5th July, and over the next few months will post further blogs picking out some of the important learning from this review. To keep up to date with this, do sign up for email notifications below.