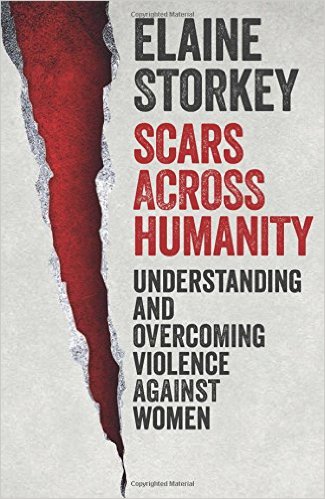 This being the inaugural sexual abuse and sexual violence awareness week (#itsnotok), it seems pertinent that I should have just received my copy of Elaine Storkey's new book, Scars across humanity: understanding and overcoming violence against women.
What a powerful, accessible, and challenging book.
Elaine Storkey, a feminist sociologist and theologian, has painstakingly explored the issues of violence against women across the globe, starting from the premise that violence against women is never acceptable.
"There is one universal truth, applicable to all countries, cultures and communities: violence against women is never acceptable, never excusable, never tolerable."

– United Nations Secretary-General Ban Ki-moon
Elaine has somehow managed to combine the dispassionate objectivity of academic rigour with a very human compassion for those countless women who have suffered as victims and survivors of violence. Drawing on her encounters with women across the world in her role as President of the International Aid Agency, Tearfund, Elaine has carefully compiled both data and human stories from as far afield as the United Kingdom and Ecuador, the United States and Afghanistan, to provide a comprehensive overview of the nature and impact of violence.
But Elaine does more than simply record facts and stories on issues as diverse as rape, trafficking, selective abortion and female genital mutilation. Through the pages of the book, she offers a unique critique of both sociological and religious understanding of women and their place in society, and our cultures that permit such violence to occur.
"Rape travels alongside trafficking and prostitution as the exercise of power over vulnerability. And that power is often layered and multi-faceted, pitting the economic, political or social status of the perpetrator against the insignificance of the victim. When the unbalance is made even more uneven by the lack of safeguarding measures, or indifference from authorities, trying to bring redress can simply feel like a task too overwhelming, and impossible to achieve."

– Elaine Storkey
The book makes for harrowing reading. But it is a book that is also full of hope, presenting a vision of a future in which violence against women is no longer accepted, stories of change and progress, and holding out the possibility of healing and restoration for those affected by such scars across humanity.
"And I have seen the ugly face of hatred

As it ripped my flesh and seared my soul

Mocking my refusal with malicious, brutal force.

But I am learning to erase that gaze

And seek instead the gentle face of love

Which stoops to soothe my fear with tender touch

And travels patiently in step with me

On the long journey towards peace."

– Survivors' workshop