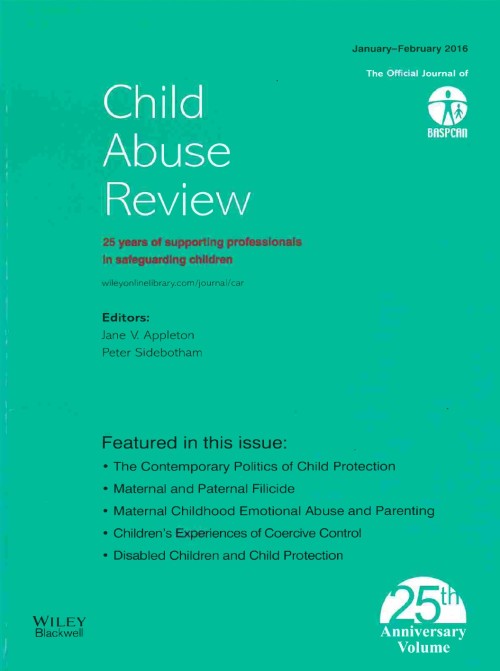 Working with the victims and perpetrators of child sexual abuse and exploitation: The latest issue of Child Abuse Review
Working with the victims and perpetrators of child sexual abuse and exploitation is one of the most challenging fields of child protection practice. The nature of some of these cases is such that it challenges our beliefs in the inherent goodness of our fellow human beings and can leave us, as practitioners, feeling emotionally drained and bruised. In the words of a participant in one of the research studies reported in this issue of Child Abuse Review, 'It's horrible stuff that you are hearing day in and day out' (Ahern et al., 2017, p. 133).
These cases are often complex and their investigation can be protracted. There is a difficult balance to be achieved between the forensic requirements of robust evidence gathering, the therapeutic aspects of caring for the victims, and the public interests of ensuring justice, rehabilitating offenders and preventing reoffending.
So how can we best support professionals working in this complex field? What tools and techniques are available to them and how best can they use these?
The papers in this issue of Child Abuse Review address some of these topics.
Understanding offenders' belief systems
In an accompanying editorial, I explore some of these questions, starting with a discussion paper by Jamie Walton and colleagues looking at the properties of the Sex with Children Scale. This led me to deepen my own understanding in relation to the Implicit Theories hypothesis as an attempt to understand the underlying belief systems of perpetrators of child sexual abuse.
Ward and colleagues postulated that such offenders may hold one or more 'implicit theories' about themselves, other people and their surrounding environments, and it is these inherent belief systems which allow them to sexually abuse children. They proposed five implicit theories that child sexual offenders may hold: children as sexual beings; the nature of harm; the world as dangerous; entitlement; and uncontrollability (Ward and Keenan, 1999).
Responding to the child victims of sexual abuse
Two papers in this issue consider the child victims of sexual abuse and how we can assess, support and respond to their needs, including an evaluation of joint investigative interview training in Scotland, and a comparison of the information obtained from young people in a direct research interview with that available as a result of the child protection assessment.
A number of important conclusions can be drawn from this research: first, that we owe it to children and young people to include their voices in research about and for them; second, that much useful data can be obtained through the careful and ethical use of routinely collected information, such as case assessments; and third, that routinely collected information cannot replace the depth and breadth of data obtained through well-designed qualitative or quantitative research projects. In seeking to promote evidence-informed research, therefore, we need to explore both avenues and to do so in a way that respects and empowers children and young people.
Supporting practitioners working with child sexual exploitation
Working with child sexual abuse and exploitation is challenging to the practitioners in this field. Their responses are explored in research by Elizabeth Ahern and colleagues.
One of the striking findings of this research was the tendency for practitioners to report withholding their own emotional responses during the interviews for the sake of the young people. However, as the authors point out, many young people want practitioners to be human and interact with them. Such emotional distancing could have a negative impact both on the young people themselves and their ability or willingness to engage with the interview, and also on the wellbeing of the professionals involved.
You can read the full editorial online for free at the journal website:
Editorial: Working with the victims and perpetrators of child sexual abuse and exploitation
Child Abuse Review, Issue 26:2
Table of Contents
Editorial
Working with the Victims and Perpetrators of Child Sexual Abuse and Exploitation (pages 85–90)
Peter Sidebotham
Original Articles
A Brief Discussion About Measuring Child Molester Cognition With the Sex With Children Scale (pages 91–102)
Jamie Walton, Simon Duff and Shihning Chou
A Retrospective Analysis of Children's Assessment Reports: What Helps Children Tell? (pages 103–115)
Rosaleen McElvaney and Maebh Culhane
Book Reviews