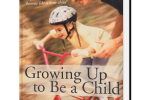 The common interpretation of the word 'inheritance' is 'what you get from your parents when they die'. In reality, though, an inheritance is far more than the material possessions left to you by your parents. What a child inherits from her parents is richer, deeper, and more profound than a sum of money. Who you are and what you become is a product of your inheritance: both the genes that are passed on to you, setting your potential, and the environment that you grow up in – your parents' attitudes and behaviour, your wider family, and your influences outside the family – all combine to mould you into what you finally become.

No matter how hard we may try not to, as parents we inevitably pass on some of our values to our children. If what we value is riches, a comfortable life with all we could need or wish for, that is what our children will inherit – along with the binding greed, the fear of loss, and the indifference to the needs of others that such idolatry brings with it. If what we value is achievement, status, and power, that is what our children will inherit – along with the low self-esteem, the constant striving to be good enough, the bullying, and the exploitation that come with that idolatry. If what we seek is pleasure and indulgence, an easy life, fun and action, and a wide circle of friends, we will pass that on to our children – along with the emptiness that so often sneaks in with this idolatry, the fear of pain, and the loneliness of absent love.
Growing up to be a child, chapter 10
In this latest contemplative guide to Growing up to be a Child, we reflect on what we have inherited from our parents, both good and bad, and what we in turn may be passing on to our children…
Click here to go to the latest contemplative guide to Chapter 10 of Growing up to be a Child.